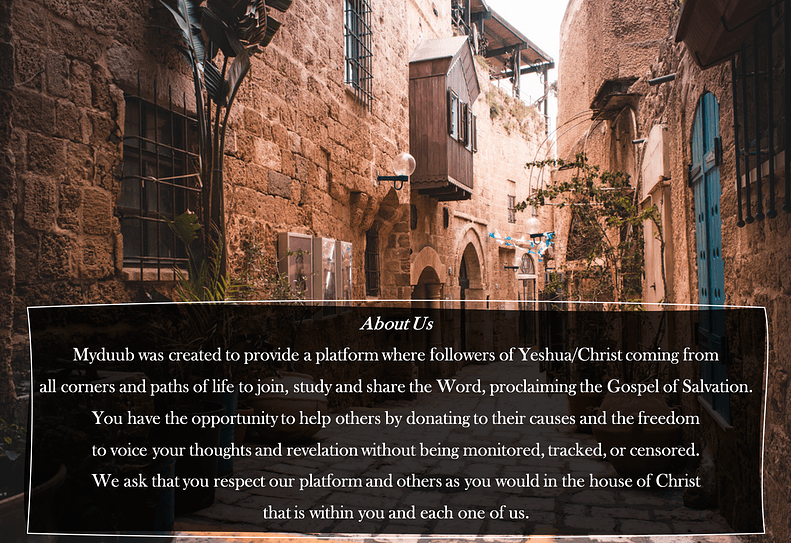 Church, create your Active Cause
We created this application for the followers of Jesus Christ/Yeshua of Nazareth who are coming from all the corners of the Earth to gather, to share & to study the Word of God. We do not intend to censor you or the content of your posts because we believe & trust that you are in one Spirit with us, the only true Holy Spirit of God. Romans 16:17 tells us "Now I beseech you, brethren, mark them which cause divisions and offences contrary to the doctrine which ye have learned; and avoid them." We will do as such when you cause division. We are here to learn the words & teachings that are set out for His children, encouraging one another to do His will, according to His purpose.
We are working continually to improve our app such as fixing bugs, iOS & program updates. It is our desire that you utilize this app to learn, eating Spiritual food & grow, delighting in the teachings of Jesus Christ & coming to the Truth, growing closer to His heart & bringing Him glory. Please be diligent & respectful. It is our hope that God will use this platform to fulfill His will in the later times, bringing glory to His name & His Kingdom.
We are open to any suggestions for improvement Please head to the Contact page, send us a message, and we will do our best to be receptive, adjust & improve while working with what we have, thus more if He wills. Our App is currently available to iOS users (iPhones/iPads). However, we are working on establishing it to Android users in the near future. We thank you for choosing to be a part of what we have created for His Kingdom & glory. Each day will be one day closer to His return, and so we hope & pray that He will continue to mold us & shape us until we become like Him, in the ways of our thoughts, actions & deeds. Be the followers & children whom the Lord Jesus Christ longs for us to be, humbling ourselves before Him, seeking & obeying His commandments in love & humility.